Olympic mountain bike timetable for Hadleigh announced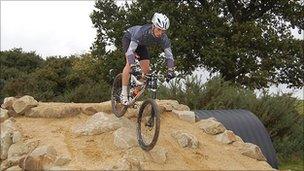 The world's best riders will compete on the Olympic mountain bike course at Hadleigh Farm over the final weekend of the 2012 games.
The timetable for the event has been announced and will see the riders tackle the three-mile course on 11 and 12 August.
A total of 20,000 spectators will be allowed for each day.
The women's event is scheduled for 1230 and 1430 BST on day one with the men's between 1330 and 1530 BST on day two.
The Olympic hopeful believed the price of the tickets - which cost up to £45 - was reasonable, given the nature of the event.
"Compared to some of the other events, it's actually quite inexpensive," he said.
"The good thing is you are guaranteed [to see] a gold medal on the day, not like some of the events where you might be watching the heats."
He added there was a good chance one of those gold medals could be around the neck of one of his British teammates.
"We have two real world class riders in Liam Killeen and Oli Beckingsale," he said.
"I think Liam is putting all of his hopes on the Olympics, so let's hope he can bring it home for us."
Construction of the course, which will meander around the slopes of the Hadleigh Downs, is due to be completed by April this year.
It is due to host its test event in July.
Killeen told BBC Essex it promises to be a real challenge.
"The course is really good actually, it's a mix of technical descents and short, sharp climbs," said the 27-year-old.
"I think it will probably suit a powerful rider and there's quite a surprising amount of elevation for Essex."
Ticket prices have been set at £20 and £45, with under-16s paying their age and over-65s £16.
There will be a limit of 10 tickets per person and people need to have registered their interest via the London 2012 website by 15 March.
Related Internet Links
The BBC is not responsible for the content of external sites.