Students' dreams to be collected by University of Essex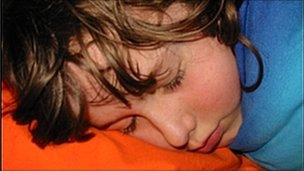 The dreams of students and staff at a university are being collected as part of a study into the subconscious of campus life.
Over a two-week period, people at the University of Essex will be encouraged to share their night-time thoughts.
These will then be made available online for people to find out what the university is dreaming about.
The information will be used for psychoanalysis as well as inspiration for art and literature.
"In the summer term we're going to have an exhibition with bits of dream narratives and images that people have sent in," said lecturer of psychoanalytic studies Matt Ffytche.
The University of Dreams project will see people at the Colchester, Southend and Loughton sites anonymously upload their dreams to a special website.
"The big idea was to get people at the university to look at [themselves] in a different and unconventional way," said Mr Ffytche.
'Little insignificant details'
Mr Ffytche explained a lot could be learned from analysing people's dreams.
"People tend to associate dreams with nightmares or anxiety dreams," he told BBC Essex.
"But there's a lot else that goes into dreams and once you pay attention to them you'll see they remember things better than you do.
"There might be all sorts of little insignificant details in your life [appearing in your dreams] that you wouldn't normally think about in your working day."
Related Internet Links
The BBC is not responsible for the content of external sites.