Lakeside Shopping Centre development could create jobs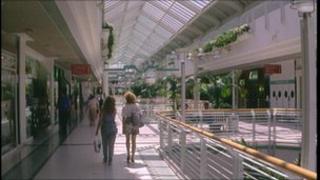 The redevelopment of an Essex shopping centre could create hundreds of new jobs, according to managers.
Capital Shopping Centres (CSC), owner of the centre, is considering expanding it by the equivalent size of four football pitches.
CSC said it was "working hard to progress the exciting plans for the Lakeside extension".
The centre currently employs 6,000, and CSC is hoping the expansion will create a further 1,000 to 1,500 jobs.
A planning application has not yet been submitted, but the centre's owners want more space for stores.
"There are several options that we currently have got on the table and are looking at," said Paul Lancaster, Lakeside general manager.
"Through those discussions and those ultimate decisions we can decide on the amount of space that we want."
The firm said it was in talks with Thurrock Council over the development of the whole area including the retail parks.
The Conservative MP for Thurrock, Jackie Doyle-Price, told BBC Essex urgent investment was needed in the roads around Lakeside, especially now the shopping centre wants to expand.
"We are going to have the necessary investment in junction 30, where the A13 meets the M25, to be able to deal with the increase traffic flow," she said.