Essex Libriaries to have new community services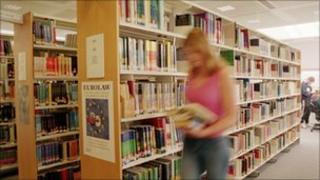 Libraries in Essex will have extra services and could be run by volunteers, a county councillor has said.
Essex County Council is planning to cut the opening hours of 54 out of 73 libraries, but no branch will close.
Conservative councillor Jeremy Lucas wants services such as recycling points to be available in the buildings.
"We can have a lot of other parts of the public and voluntary sector... that can enable us to keep libraries open."
Speaking at the launch of the Essex Book Festival at Chelmsford Library, Mr Lucas was clear volunteers would not replace paid staff.
"We shall always try and keep library staff in our buildings during the periods they are open," he said.
Great Dunmow's new library centre includes a police community desk, Uttlesford District Council services and a disrbution point for the local newspaper.
"In one or two of our libraries the district council have made an arrangement with us for people to collect their recycling at the library," he added.
"We see them as being at the heart of the county council and at the heart of the community," he said.