Oxfam shop fire closes high street in Billericay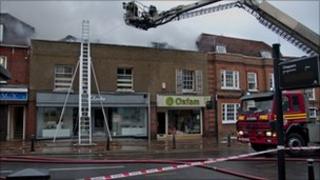 Motorists in an Essex town are being warned of severe congestion after a major fire closed the main thoroughfare.
Crews were called to the high street in Billericay on Friday morning to reports that the Oxfam shop was alight.
The fire spread to a flat above the shop, a second shop, and two neighbouring properties.
Firefighters prevented the flames from spreading further before putting out the fire.
They will be damping down on site for the rest of the day.
The High Street was expected to remain closed for most of the morning.
Bob Wahl, divisional officer for Essex Fire and Rescue said: "The high street in Billericay has old type buildings and these buildings often contain voids where they have been altered over the years and this can lead to unseen fire spread.
"The initial crews attending were mindful of this and did an excellent job in quickly surrounding the fire and preventing it from spreading further.
"Were it not for their professionalism in recognising this was an important factor this fire could easily have spread to affect many more of the shops."
An investigation has begun into the cause of the fire.