A scale model of Southend High Street goes on display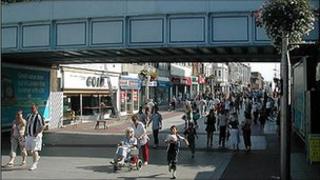 A replica of Southend High Street has gone on display in one of the town's shopping centres.
The 1:200 scale model crafted in hard and soft wood has been created using accurate town master plans.
The exhibit also includes photographs and maps and is being used to encourage people to talk about local heritage and contribute to a community archive.
The exhibition has been organised by Southend Borough Council with a grant from the Heritage Lottery Fund.
"The overall exhibit is a collaboration of different groups in the town who wanted to do something about heritage," said Sophie Arthurell from the council.
"We wanted to bring people together to talk about local heritage, because local heritage is most important to local people and it's not just in museums."
'High street memories'
The 14ft (4.3m) wooden model was contributed by local artist Ian Hurd, who created it for his MA thesis on the high street.
"He found the high street the most interesting place in Southend to focus his work," said Miss Arthurell.
"We're interested in the heritage side of the high street."
Miss Arthurell said she believed it was important for people to have the opportunity to share their experiences.
"We thought it would be a real opener for everyone to come and talk about the model, and then also discuss their memories of the past and their memories of the high street."
"This is people's home, it's their life and they get to talk about it here, and it's been really encouraging for me," said Miss Arthurell.
The exhibition will be held in the Royal Shopping Centre in Southend until the end of March.