Christchurch earthquake: Essex firefighters return home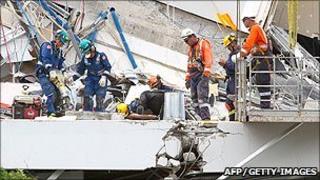 A team of firefighters have returned from assisting with the rescue efforts following the New Zealand earthquake.
Six members of the Essex County Fire and Rescue Service's Urban Search and Rescue team headed to Christchurch after last month's 6.3 magnitude quake.
They were among more than 60 rescuers from the UK fire services to fly out.
"We don't deem ourselves to be heroes, because we do what we can do, but it was very emotional," said Station Officer Terry Jewell.
The quake, which struck on 22 February, was New Zealand's deadliest natural disaster in 80 years, killing more than 160 people.
Mr Jewell explained the Essex team had worked at the five-storey Pyne Gould Corporation building that had collapsed, killing 13 people.
"Certainly for the first few days we were there it was a 24-hour operation to look for what we hoped would be live casualties," he said.
"We knew there were 13 people in the building and we got 13 people out.
"We never managed to get any out alive, but there wasn't a day go by when we didn't have families or friends of those people turn up, so it was important to them, they wanted their loved ones back."
'Very traumatic'
Firefighter Nigel Golland, who had previous experience in disaster zones in Iran, Haiti and Indonesia, said the group had built up strong relationships with locals.
"It became so close because we were working with them 24/7," he said.
"They were going through a difficult time because its something they're not really used to, especially some of the construction plant workers.
"So it took a bit of a twist in the operation for us to console them when we came across situations they weren't used to."
Assistant Divisional Officer Rudy Jackson said it was important for them to keep the emotion of the situation in check.
"We do have to detach ourselves a little bit from it so we can do our job and as firefighters we're used to doing that," he said.
"But it is still very traumatic, we have to consider the families that are there and there were a lot of people in the building.
"Basically you just have to be professional, which we do on a day-to-day basis as firefighters."