Vintage steam-powered pumping station is restored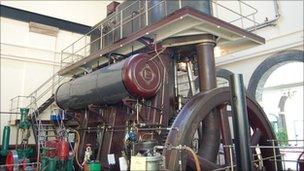 A former water pumping station in Essex is to return to steam power for the first time in 50 years.
A vintage 350 horse-power inverted triple expansion engine has been restored by the Museum of Power in Langford, near Maldon.
Between 1928 and its closure in the early 1960s it pumped eight million gallons (136 million litres) of treated water to the Southend district per day.
The engine will be powered-up for the first time in public on 9 April.
The only surviving pump at the former water works, which is now home to the museum, was listed as a historic monument in 1986.
Known as "Marshall", it is believed to be the last of its kind to be built by the Shropshire based Lilleshall Company Ltd.
The work to restore the engine to its former glory is estimated to have cost between £45,000 and £50,000.
The funding has come from a combination of museum fundraising, Essex and Suffolk Water and Maldon Council.
Terry Bradley from the museum explained the return to steam power was the culmination of a long labour of love.
"When it finished its working life the original boilers were removed and two of the engines were unfortunately scrapped," he said.
"But this one was saved and stayed in storage for a number of years
"In the 1990s the museum was looking for a new home and got together with Essex and Suffolk Water to inhabit the building and try to bring the engine back to life again.
"Since that day it has always been our dream to do this and over the last three years we've managed to get a new boiler installed and install the pipe work to get it back on steam."
It will run for the first time in public as part of the museum's Steam Gala this weekend and at various times throughout the summer.
Related Internet Links
The BBC is not responsible for the content of external sites.