UN officials visit Dale Farm travellers' site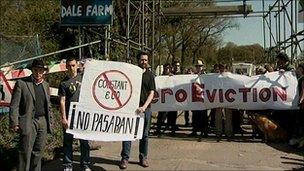 United Nations observers and Romany people from across Europe have visited a travellers' site in Essex where many residents are facing eviction.
The gathering at Dale Farm, near Basildon, marked the 40th anniversary of the Romany Congress and was intended to show solidarity with residents.
Basildon Council has gained permission to evict those living there illegally.
A UN official said Dales Farm's fate would have an impact on the treatment of other travellers' sites in Europe.
Maria Faraone, a UK-based mediator attached to the UN's Commission on Human Rights, said: "Although it is not the largest site in Europe, it is the largest in the UK.
"The decisions that come from here will have ramifications across Europe."
Ms Faraone and her colleague Yves Cabannes were invited to the site by the Romany Council.
Ms Cabannes said: "If Dale Farm is not suitable it is not the responsibility of the people, but of the government, to deliver what they are expected to deliver, which are proper pitches or places for them to settle."
The residents threatened with eviction must receive a 28-day warning notice before any action can be taken and this has not yet been issued.
Tony Ball, leader of Basildon Council, said: "This is all about planning law. The site was developed without permission and we've been to the House of Lords who agree with us that it must be cleared.
"If we ignored this we'd just be turning a blind eye to those who break the law."
Joseph Jones, from the Gypsy Council, said: "We're the largest ethnic minority in Europe and should be at least awarded the same responsibilities as everyone else."
Related Internet Links
The BBC is not responsible for the content of external sites.