Canvey Island church completes 72-hour Bible marathon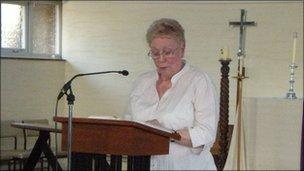 Worshippers at an Essex church have completed a 72-hour reading of the King James Bible to mark the 400th anniversary of it being published.
The reading involved 210 parishioners of St Nicholas Anglican Church, on Canvey Island.
Each reader was allocated a 20 minute slot to read aloud from the altar.
"People have never read aloud in church before and they've been absolutely blown away by the experience" said Reverend Marion Walford.
The reading was organised by the church to celebrate the first publishing of the Bible in English in 1611.
It began on 8 April and concluded at 0830 BST on Sunday 10 April.
"It's been lovely," said Reverend Walford.
"Lots of people have volunteered and taken some of the unsociable slots, early in the morning and late at night, so nobody has had to be here the whole night.
"We've also had a whole rota of people making tea and coffee and keeping our caffeine levels up."
Related Internet Links
The BBC is not responsible for the content of external sites.