Fire service in Essex unveils large animal rescue unit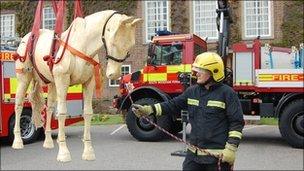 Specialist equipment for rescuing large animals has been unveiled by the Essex County Fire & Rescue Service.
The purpose-built vehicle has a 13.7m (45ft) crane capable of lifting up to 3,250kg.
The new equipment will be used to deal with incidents such as when large animals become trapped or are involved in road traffic accidents.
Crews have also been training at Writtle College to improve the way they deal with animal-related incidents.
Between April and November 2010 Essex crews attended 150 animal rescues.
Station officer Toby Ingham said of the new equipment: "It will make it safer for the crews involved and it will make the successful rescue of the animal much more likely.
"At the moment they are few and far between.
"We will be talking to our colleagues over the border in Suffolk and Hertfordshire to go into a partnership for training their crews for the future."
Mr Ingham explained animal rescues were becoming more frequent in the county.
"Not just in the rural environment, but it's becoming more and more common to have fire crews turning out to an incident on the M25 or M11 where you've had horses or horse boxes involved in road traffic collisions."
Since 2008 firefighters have been training at Writtle College, near Chelmsford, to improve the way they deal with animal rescues.
The college's Equine Science senior lecturer Heidi Janicke said it was important to understand animal behaviour.
"Most livestock we deal with tend to be 'flight animals' or prey animals, so their first instinct is to get away as fast as possible," Dr Janicke said.
"If that means hurting anything that's around them, then they will do that.
"So understanding their behaviour and how they respond to human interaction is quite useful in getting them out of a dangerous situation much quicker."
Related Internet Links
The BBC is not responsible for the content of external sites.