BBC Essex broadcasts special programme from army base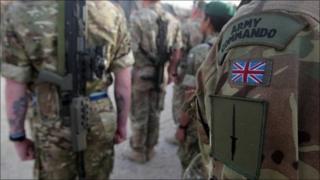 BBC Essex will be presenting a special programme from Colchester Garrison on Good Friday 22 April.
Ian Puckey will broadcast live from the army base with Richard Martin reporting from Camp Bastion in Afghanistan with the Essex-based troops.
"This is a great opportunity to show what life is like for our troops in Afghanistan," said Mr Martin.
Troops from 16 Air Assault have deployed to the area four times since operations began in late 2001.
They took over from 4th Mechanised Brigade in October 2010 under the command of Brigadier James Chiswell MC.
The force were involved in training Afghan soldiers and police so they can gradually take over security duties from the British.
"To be allowed to move beyond the usual news reports that come from the country is a chance I'm really looking forward to," said Mr Martin.
"It is only a small part of a considerable effort by BBC Essex to best explain what people from our county are achieving overseas."
The programme can be heard on BBC Essex from 0600 BST on Friday 22 April.