Chelmsford Cathedral becomes a Grade I listed building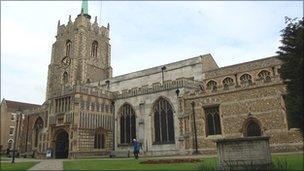 An Essex cathedral has been awarded Grade I listed building status.
The Cathedral Church of St Mary the Virgin, St Peter and St Cedd is the mother church of the Anglican Diocese of Chelmsford.
It has been upgraded from Grade II listing by the Department for Culture, Media and Sport and English Heritage.
The Dean of Chelmsford, the Very Reverend Peter Judd, said the diversity of the building was the reason for the change in status.
"Some of the architecture in the chancel is from 1450 or so, but there are earlier bits dotted about," Mr Judd said.
"One of the reasons for upgrading it is because it's got a combination of medieval past, Georgian additions which are unusual, a Victorian extension and had a huge refurbishment in 1983.
"With the addition of the modern bits of art, all of that together makes it very special."
Believed to date back to medieval times, it is known to have been a parish church since the 15th Century and became a cathedral in 1914.
Although it is home to the second largest Anglican diocese in England, Chelmsford Cathedral is one of the smallest in the country.
Mr Judd said confirmation of its Grade I listing had "come out of the blue".
"I was at a meeting of the Deans of England and somebody was saying nearly all the cathedrals in England are Grade I listed buildings, with one or two exceptions," he said.
"I pessimistically assumed we were one of them, because after all we're not a World Heritage Site like Salisbury Cathedral.
"Then the following week we got a letter saying you are now Grade I and I though 'hallelujah'."
Related Internet Links
The BBC is not responsible for the content of external sites.