Essex soldiers cycle 523-miles in memory of colleague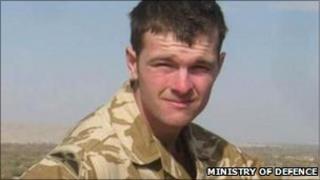 Six Essex-based soldiers are cycling to Scotland in memory of a colleague who was killed in Afghanistan.
The soldiers from 33 Engineer Regiment (EOD), based at Carver Barracks in Wimbish, are riding to Fort William to remember Sapper David Watson, who died in 2009.
At the end of the 523-mile (841 km) ride they will lay a memorial stone for the 23 year old at the Commando Memorial in Spean Bridge.
They are also aiming to raise money for an injured soldiers fund.
The soldiers are completing about 100 miles each day and will reach their destination on Saturday.
Sapper Watson, from Newcastle upon Tyne, was fatally wounded by a roadside bomb in the Sangin area of Helmand province on 31 January 2009.
Garden of remembrance
The cycle ride was the brainchild of his colleague, Staff Sergeant Paul Clark.
"I went to Scotland last year and went up to the Commando Memorial," he said.
"They've got a small garden of remembrance and there was nothing in there for Dave.
"So I just came up with the idea that we'd get a small memorial stone made for him and take it up to Scotland from Wimbish."
Staff Sergeant Clark explained they were keeping in contact with the family of Sapper Watson throughout the ride.
"We speak to David's dad quite regularly," he said.
"We're meeting him on Saturday to lay the memorial stone and we're phoning him every night to let him know how we're getting on."
It is also hoped the ride will raise £5,000 for the Carver Barracks Injured Soldiers Fund.