Round-the-clock surveillance of avocets begins in Essex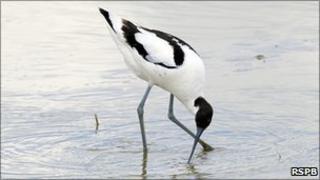 Round-the-clock surveillance of rare avocets has begun on an Essex island.
The 24-hour watch on Two Tree Island, near Leigh-on-Sea, will see volunteers keep a constant vigil of the nests for the next eight weeks.
A scheme was set up in 2006 by the Essex Wildlife Trust after a spate of egg thefts in previous years just days before they were due to hatch.
Avocets are listed on Schedule 1 of the Wildlife and Countryside Act and it is an offence to kill or injure them.
Last year over 70 volunteers, working shifts of six hours, took part in the project which oversaw 45 avocet hatchings.
'Tremendously successful'
The black and white wader with a long curved-up beak and distinctive blue legs is mainly found in coastal areas of Essex, Suffolk, Norfolk and Kent.
The species became extinct in Britain in the 19th Century, but was reintroduced in the 1940s.
According to the RSPB there are 877 breeding pairs in the UK.
"They are a nationally rare bird, we have very few nesting in this area and it's been tremendously successful," said Louise Morris, Southend Environmental Project manager.
"We haven't had any eggs stolen [since it began] and the network of volunteers are a very dedicated bunch."
She explained the purpose of keeping watch over the nests was more a case of deterring people than of confronting potential thieves.
"It's about making everybody in the community aware that it's just not worth the while," she said.
The project will run until 10 June.