Maldon Mud Race to take place on Easter Monday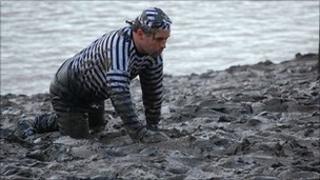 One of the world's dirtiest sporting events takes place in Essex on Easter Monday.
The Maldon Mud Race was originally due to take place on 28 December but had to be postponed due to the extreme cold conditions.
Around 250 runners will tackle the 500-yard (457m) course across the bed of the River Blackwater.
The race, which can take between five minutes to almost an hour for some competitors, starts at 1300 BST.
The event began in the mid-1970s and attracts thousands of spectators to the town's Promenade Park.
It also receives media attention from as far afield as the USA and Japan.
Among the runners taking part is Blue Peter presenter Andy Akinwolere.