Fundraiser kayaks to all 35 islands along Essex coast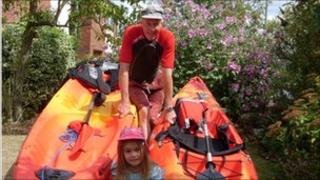 An Essex man is raising money for charity by kayaking to all 35 islands along the county's coastline.
Hugh Turner, 64, from Bures, is attempting to paddle the 60 nautical miles (111km) in his 3m (10ft)-long vessel in aid of the RNLI.
Since March he has already paddled to 23 islands and hopes to complete the final 12 by the end of May.
"I realised there was a challenge with more islands than in any other English county and it had to be done," he said.
Mr Turner, an experienced sailor and canoeist, believed he was the first person to have attempted canoeing to all of the islands.
He said his 'Essex Island Challenge' had revealed the "huge contrasts" along the county's coastline.
'Surrounded by seals'
"Some of them are the bigger islands like Canvey, Wallasea and Mersea," he said.
"Some of them are tiny islands with nothing on them at all; one or two of them have sheds where oysters were once packed on them, one or two have just farms on them."
Mr Turner hopes to raise £2,000 towards the Burnham RNLI station's Floating Lifeboat House appeal.
"The absolute highlight [so far] has got to be in the north of Hamford Water where I was going up to Bramble Island and Oakley Creek," he said.
"I was surrounded by seals who were popping up just as interested in me as I was in them.
"Also surfing along the south coast of Canvey up the Thames with the wind and the tide behind me was incredibly exhilarating."
Depending on weather conditions and tides, he hopes to complete the challenge outside the Burnham RNLI station at the end of May.