Essex Summer of Art festival launches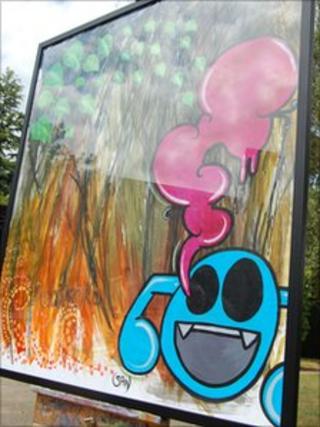 A six-month long art festival showcasing creative talent in Essex has been launched.
The third Essex Summer of Art comprises of 14 individual art trails and open studios around the county.
Between May and October, painters, sculptors and visual artists will display their work at venues such as shops, cafes and offices.
Since it was first held in 2009, the Summer of Art has involved a total of 811 artists and 544 venues.
As well as the benefit to artists, Essex County Council estimates that last year's Essex Summer of Art contributed £1m to the county's economy.
Arts development manger Lindsey Strange said: "Not only are people able to appreciate art in unusual places, we're also able to help the local economy by bringing people into different businesses across Essex."
'Brilliant opportunity'
Tracy Saunders, organiser of the Burnham Art Trail, which takes place between 25 June and 3 July, said: "It's an important event for the town and we get a lot interest into the town.
"We like to encourage people who may not want to go and see art in a gallery.
"If you're opening up venues in shops people are more inclined to come and have a look and see art they wouldn't normally see."
Rosie Sandler, from the Maldon Art Trail, which will be held at the beginning of October, said such initiatives were important for local artists.
She said: "I think it's brilliant for artists to have that opportunity to have their art in an unusual place that makes people take notice.
"It brings the high street to life as well, that's the thing I like best about it.
"To walk into Maldon and have the shops just full of art is such a surprise. I love that."
This year's art trails in Westlciff and Brentwood have already begun. The calendar will conclude with the Rochford Art Trail in October.
Led by Essex County Council and the Firstsite arts organisation, the festival will see events in Harlow, Leigh-on-Sea, Burnham-on-Crouch, Braintree, Jaywick, Basildon, Colchester and Tendring, Maldon, Hadleigh and Rochford.