Canadian Olympic mountain bike team to train in Essex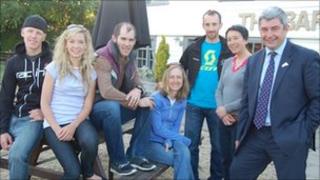 The Canadian mountain bike team is to train in Essex ahead of the 2012 Olympic Games.
The Canadian Cycling Association signed a memorandum of understanding with Essex County Council for it to be their preferred pre-Games training camp.
Head coach Dan Proulx said: "There's a lot of similarities between here and Canada, so we feel like we're at home."
The Japanese swimming team has already committed to training in Basildon ahead of next year's games.
Mr Proulx explained they had been impressed by the county while on a short visit to the county to ride the Olympic mountain bike course at Hadleigh.
He said: "I think it's a long tradition in the Olympics that town's host various countries and it's a way of establishing a good friendship and good co-operation.
"Now we're just touring around the Essex area trying to get a sense of where the best places to train are and obviously there's ample opportunity for that."
Stephen Castle, Essex County Council cabinet member for education and the 2012 Games, said: "Clearly mountain biking teams are going to be interested in coming to Essex.
"But I'm really, really pleased that's we've managed to link up with the Canadian team and we're really enjoying showing them some Essex hospitality."
He added: "One of the key attractions of the Olympics being right on our border in London and the mountain bike course in Hadleigh was the opportunity to attract teams to come and train.
"[We want them to] come and visit Essex and take back to their home countries what a great place it is and hopefully build sporting and cultural relationships."
The Hadleigh course will host the Olympic mountain bike event on 11 and 12 August 2012.
A pre-Games test event will be held on 31 July this year.