Southend's Laura Byng 'breaks dodgem world record'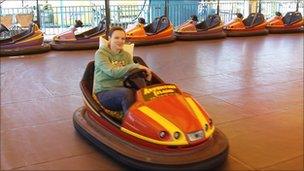 A woman from Essex believes she has broken the world record for the longest dodgem car marathon.
Laura Byng, 28, from Southend finished her 25-hour attempt on Thursday at the town's Adventure Island amusement park.
Miss Byng beat the current record of 24 hours, set by Sebastian Bosch in 2007, during the attempt, organised to raise money for the Havens Hospices charity.
She said she was confident her attempt would be verified by Guinness World Records.
After completing the marathon, Miss Byng said: "I'm a bit battered and bruised and over tired. We drank a lot of coffee during the evening, so I'm looking forward to going to bed.
"At about 4 o'clock in the morning it was horrible. It was freezing cold and like a wind tunnel. It was then I thought 'why am I doing this.'"
"But then at 5 o'clock the sun came up and then it was fine."
The attempt was set up to ensure Guinness World Records rules were followed, she said.
"We filmed the whole thing and we've had all the forms done," she continued.
"So we just have to wait for them to verify it. We should be fine, we've... done everything properly."
Having surpassed the previous record set in Austria, Miss Byng revealed she had only allowed herself to indulge in a small amount bumping during the bid.
She said: "We did yesterday up until about 10 in the morning, but then we got into a bit of a routine and just went round and round and round.
"Then in the last 15 minutes we just smashed each other to pieces."
Miss Byng was allowed a five minute break every hour for food and toilet breaks and had to have at least two other dodgem cars driving at the same time.
She is also planning join the Dotty and the Dice team, this time in a car, to take part in the 10,000 mile (16,093 km) Mongol Rally in July to raise a further £10,000 for Havens Hospices.
In 2010, Adventure Island hosted a successful naked roller coaster world record attempt.
Related Internet Links
The BBC is not responsible for the content of external sites.