Essex World War II airfield museum to be opened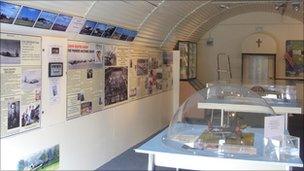 A museum dedicated to a World War II airfield in Essex is to be officially opened by an American war veteran.
The Boxted Airfield Historical Group (BAHG) has spent the past 10 years fundraising to create the museum based in two Nissen huts on the site.
The airfield was used by the US Air Force between 1943 and 1945 and by the Royal Air Force until 1947.
Henry Farwell, who was stationed there during the war, will open the museum at a private event on Sunday.
The museum will open to the public for the first time on 26 June.
Richard Turner, chairman of BAHG, said: "Since the start of my research in 1994, this is what I've always wanted to do.
"There's over 100 members in our group and about 20 to 30 of them have worked really hard to help us get to where we are today and I am really grateful to all of them."
The two Nissen huts, one of which was used when the airfield was active, will house a variety of wartime memorabilia.
Mr Turner said: "One of the major exhibits is a piece of Marauder fuselage, which has been loaned to us.
"It was originally at Earls Colne airfield and was saved from a scrap yard several years ago and has been in storage."
He added: "We have relics from crash sites, we have lots of World War II memorabilia, gas masks, tin helmets, radios.
"There are also lots of personal items, in particular items from an airman who has given us his first ever letter that he wrote home."
The airfield, which is actually located in the nearby village of Langham, north of Colchester, was home to several US Air Force groups between 1943 and 1945.
One of those, the 56th Fighter Group, were the air force's most prolific fighter group in Europe during the war.
Mr Turner explained the airfield had played a significant role in the US Air Force effort in Europe.
He said: "The only Congressional Medal of Honour, the American equivalent of our Victoria Cross, awarded to a fighter pilot in Europe went to Jim Howard, who got his award at the time he was here."
"Also, their first ever air sea rescue was formed here."
Related Internet Links
The BBC is not responsible for the content of external sites.