Southend Air Festival set to attract thousands to town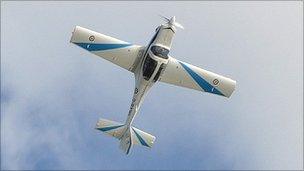 Tens of thousands of people are expected to attend the 26th Southend Air Festival.
The air show, which has traditionally been held on the Spring Bank Holiday Sunday and Monday, has moved dates this year to the Saturday and Sunday.
The event is recognised as one of the largest free air shows in Europe.
Among the displays are the Battle of Britain Memorial Flight, Tornado GR4, Red Arrows and the only remaining airborne Vulcan bomber.
Flying is scheduled to begin at 1350 BST on both days.
Former Red Arrows pilot and air show flight director Ray Thilthorpe said the show had been one of the first of its kind when it began in 1986.
He said: "It was going around the country doing performances at a lot of seaside venues where the Red Arrows were the only item and there were huge crowds, which I thought was a bit of a waste.
"When I was about to leave the air force, the then chief executive [at Southend council] and town clerk said 'can we do anything at Southend?'.
"So that's when the Southend and seaside air shows began - it is the pioneer of all seaside shows."
Mr Thilthorpe said he believed one of the highlights of the weekend would be the rare flight of the Vulcan bomber on Saturday afternoon.
He said: "It's flown by a chap called Martin Withers, who in fact was the only man who flew to Falkland Islands [in 1982] and dropped a stick of bombs across the runway there.
"So the the only time the Vulcan was used in anger was flown by him."
BBC Essex will have commentary of the flying display on 1530 MW and online on both days from 1330 BST.
Related Internet Links
The BBC is not responsible for the content of external sites.