Essex projects appeal for National Lottery Awards votes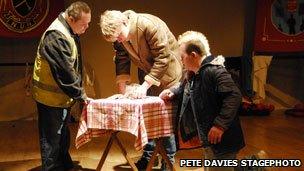 Two Essex projects are hoping to make it through to the final of the 2011 National Lottery Awards.
Saffron Walden-based Support 4 Sight Centre and the Razed Roof arts project in Harlow are in the semi-finals of the competition for Lottery-funded schemes.
They are two of a total of 70 schemes in seven categories vying to make it through to the final, which will be televised on BBC One later this year.
The public vote for the semi-finals opened today and will close on 20 June.
The three projects with the most votes in each category will make it through to the final, with the winners getting £2,000.
The Support 4 Sight Centre for Visually Impaired People is competing in the Best Voluntary/Charity Project category.
Established in 1994 to help people remain independent through specialist technology, the project has received over £450,000 of lottery funding.
Resource Centre & Volunteer manager Paul Atkins said: "Making the final would obviously mean a raising of the profile of the charity and the work we do, which is so important in the area.
"There's not that many organisations around who offer the facilities that we do.
"So it would mean we were able to reach more people that need our services and help."
The Razed Roof's "Inclusion Through Practice" is nominated in the Best Arts Project category.
The scheme, based at the Harlow Playhouse theatre helps people with and without learning disabilities to get involved with theatre production.
Artistic director, Annette Lidster, said the £10,000 it had received from the Big Lottery Fund was "almost the difference between us surviving and not surviving".
She also hoped a place in the final would raise their profile.
"Yes, it's about raising profile and just getting recognition for all the good work that lots of people do.
"But the awards also highlight to the wider world how people with learning disabilities have a lot to offer."
Voting for the awards can be done via the National Lottery Good Causes website.
Related Internet Links
The BBC is not responsible for the content of external sites.