Braintree murders: Christine Chambers 'had been harassed'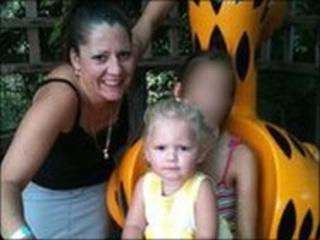 A woman who was shot dead in Essex had reported to police she was being pestered and harassed weeks before her death, the police watchdog has found.
Christine Chambers, 38, and daughter Shania, two, were found dead at their home in Braintree on Monday.
A 50-year-old man, being treated for gunshot wounds, remains under armed guard in hospital, Essex Police said.
The Independent Police Complaints Commission (IPCC) is investigating the handling of Ms Chambers' complaints.
The father of a 10-year-old daughter who escaped from the house and raised the alarm, Ian Flitt, said police should have made an arrest weeks before the shooting.
He said his daughter had been terrified by her ordeal.
The watchdog is investigating the run-up to the incident in Bartram Avenue.
The IPCC said its initial investigations had found Ms Chambers contacted officers on 27 May in the latest of two years of contact with Essex Police.
The watchdog said it was "still collating" previous contact between Ms Chambers and officers.
IPCC commissioner Rachel Cerfontyne said: "Nobody could fail to have been shocked by what happened in Braintree yesterday and my thoughts are with Christine and Shania's family.
"Our independent investigation will focus on the previous reports to police and how they responded.
"We have to be very mindful that there is a double murder inquiry under way and we therefore need to be cautious about the information we make public at this stage so as not to interfere with that ongoing investigation.
"At this stage, it is too early to say whether police responded appropriately to each incident and this is something that will take time to establish, but we will make our findings public as soon as we are able."
The brother of the 10-year-old who escaped, Stuart Flitt, said he regularly stayed at Ms Chambers' home after she received threatening text messages.
Mr Flitt said: "The police didn't seem to take her seriously and we feel they could have done more."
Police are not looking for anyone else in connection with the investigation.
Brave escape
Post-mortem examinations carried out on Tuesday showed the "major contributory factor" in the death of Ms Chambers was a bullet wound to the abdomen, police said.
The provisional cause of death given for her daughter was a "single gunshot wound".
Ms Chambers' 10-year-old daughter escaped from the house and alerted family members who called police.
Detectives have commended her bravery.
Assistant Chief Constable Gary Beautridge, has confirmed that the force had been called to the home on a number of occasions over the past two years following reports of trouble.
On Monday a neighbour, who declined to be named, said of Ms Chambers: "She had called the police before on several occasions and there had been a lot of problems in the past.
"Like everybody, she had her ups and downs and we knew there were problems.
"We knew she was worried about what might happen to her and it seemed she was living in fear."
Essex Police have said there would now be a "full and fundamental review into the circumstances surrounding this contact".