Braintree murders: Shot mother suffered other injuries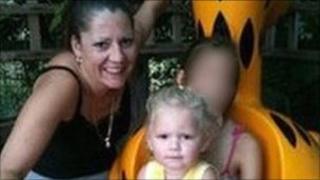 A woman who was found dead at her Essex home along with her young daughter had suffered other injuries before being shot, post-mortem tests revealed.
Christine Chambers, 38, and daughter Shania, two, were found dead at their home in Braintree on Monday.
A 50-year-old man remains under armed guard in hospital where he is being treated for gunshot wounds.
The Independent Police Complaints Commission (IPCC) is investigating the handling of the case.
Police have not revealed what additional injuries Ms Chambers had sustained, but said post-mortem examinations carried out on Tuesday showed the "major contributory factor" in her death was a bullet wound to the abdomen.
The provisional cause of death given for her daughter was a "single gunshot wound".
Ian Flitt, the father of Ms Chambers' 10-year-old daughter who escaped the house to raise the alarm, paid tribute to his former partner.
He said: "She was a fantastic mother, always laughing and outgoing and just a brilliant mother. She always put the kids first."
'So many calls'
Mr Flitt said police had been aware of concerns for Ms Chambers' safety and should have made an arrest weeks before the shooting.
He said: "She called them so many times asking 'When are you going to do something, when are you going to do something?"'
He said his daughter had been terrified by her ordeal.
The police watchdog is investigating the run-up to the incident in Bartram Avenue.
The IPCC said its initial investigations had found Ms Chambers contacted officers on 27 May in the latest of two years of contact with Essex Police.
IPCC commissioner Rachel Cerfontyne said: "At this stage, it is too early to say whether police responded appropriately to each incident and this is something that will take time to establish, but we will make our findings public as soon as we are able."
The brother of the 10-year-old girl who escaped, Stuart Flitt, said he regularly stayed at Ms Chambers' home after she received threatening text messages.
Mr Flitt said: "The police didn't seem to take her seriously and we feel they could have done more."
Police are not looking for anyone else in connection with the investigation.