Colchester soldiers receive medals from Princess Royal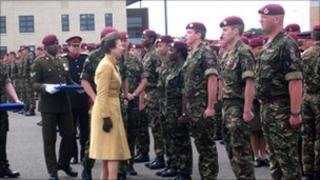 About 200 Essex-based soldiers have received their Operational Service Medals from the Princess Royal.
Troops from 13 Air Assault Support Regiment, The Royal Logistic Corps, recently returned to Colchester after a six-month tour of Afghanistan.
The regiment provides supplies to the Army's 16 Air Assault Brigade.
They were presented with their medals at the town's Merville Barracks by the princess, who is Colonel-in-Chief of The Royal Logistic Corps.
'Celebrated and supported'
The unit, which was based in Helmand Province, supplied the Army's largest brigade with ammunition, food, fuel and equipment and provided its heavy lift transport assets.
Princess Anne said it was "a privilege and a pleasure" to be presenting medals to the regiment.
She said: "Your work in the service of your country is appreciated and will not be forgotten.
"Your efforts reflect the professionalism and commitment to your vital place in the logistics train.
"None of this would be possible without the help and support of families and friends."
The majority of the soldiers were on their first tour of Afghanistan.
Commanding officer Lt Col Gerry Ewart-Brookes, said it was a special day for all concerned.
'More special'
He said: "It gives the soldiers an opportunity to show off and celebrate what they've done and more importantly to allow the families to be celebrated and supported.
"[Princess Anne] has given a lot of support, not just for the Royal Logistic Corps but also for other elements of the brigade.
"It's really important and a nice defining factor which probably makes it a little bit more special for the families as well."
Last week soldiers from 16 Air Assault Brigade performed a homecoming march through Colchester and attended a service of thanks in Bury St Edmunds to mark their return from Afghanistan.