Market redevelopment work starts in Harlow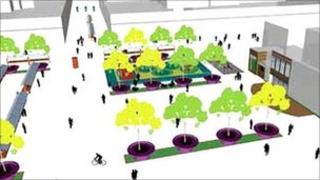 Work has started on a £150,000 scheme to redevelop the market area in an Essex town.
The Harlow Council project for the Stone Cross area is expected to take one month.
The work includes removing metal stalls and replacing them with new designs and new benches and Astroturf where children and families can sit.
The redevelopment also includes introducing larger trees in planters to make it feel less windswept.
'Renewal of Harlow'
Russell Perrin, the Conservative-controlled council's portfolio holder for regeneration, said: "A market has always been a key feature of Harlow, but there's a general recognition that the market has struggled in recent times and needs an overhaul.
"The council is committed to the renewal of Harlow and the work on the market area is the first phase of a number of our development plans.
"Later this year, we will be going through the formal process of appointing a new developer for the north part of our town centre, and I've every confidence that will bring further jobs and investment to the town."
Harlow's first market began trading at Stone Cross in 1956.