Prince Charles presents medals to Colchester soldiers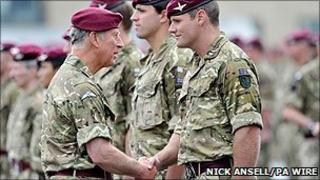 The Prince of Wales and Duchess of Cornwall have presented hundreds of Essex-based soldiers with their service medals for their tour of Afghanistan.
About 600 troops from the 2nd, 3rd and 4th Battalions, The Parachute Regiment, returned from their six-month deployment in April.
They were presented with their medals at Merville Barracks in Colchester.
The prince and duchess also presented Elizabeth Crosses to the families of those killed or wounded in action.
The units were part of Operation Herrick in the Helmand Province of Afghanistan.
'Enormous challenges'
Prince Charles told the troops the country owed them "a special debt of gratitude".
He said: "You operated in an extremely dangerous area where the Taliban had the upper hand.
"Despite these enormous challenges, you achieved excellent results."
He also paid tribute to the seven soldiers who lost their lives during the tour and to those who were injured.
He said: "I know only too well that your achievements came at a terrible cost. It is only right that we remember those who did not come home.
"The sacrifice that they have made will never be forgotten."
The 2 Para Battle Group was deployed in the Nahr-e-Saraj (South) district, while 3 Para was responsible for the Nad-e Ali (North) district.
Both are part of the Colchester-based 16 Air Assault Brigade.
About 70 reservists of 4 Para, the Parachute Regiment's Territorial Army battalion, served alongside their regular counterparts.
'Incredibly proud'
Major-General John Lorimer, from the regiment, said it was a special day for the soldiers.
He said: "Having the Colonel-in-Chief here has been fantastic.
"They've come back from a very tough, challenging six months in southern Afghanistan, they've done a brilliant job and to see them on parade made me incredibly proud.
"What was really good to see was how proud the families were, watching their son or husband or brother standing there with his comrades on parade."
The ceremony took place a day after members of 13 Air Assault Support Regiment, The Royal Logistic Corps, received their Operational Service Medals from the Princess Royal.