Bishop of Brentwood to step down after 31 years in post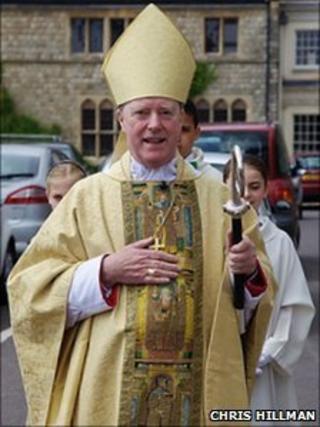 The leader of the Catholic church in Essex has offered his resignation from the post, after 31 years in the role.
The Bishop of Brentwood, the Right Reverend Thomas McMahon, has written to Pope Benedict XVI of his decision, as required on turning 75 years of age.
He has performed the role of bishop for the diocese, which covers Essex and five east London Boroughs, since 1980.
It is expected he will remain in his position until a successor is announced later this year or in early 2012.
Bishop McMahon said: "It's a very big milestone for anyone to be 75 years old, but for me in particular, as we have to offer our resignation to the Pope when we reach 75.
"It takes quite a while for the Pope to respond and then you're asked to stay as the bishop until such time as a successor is appointed."
Bishop McMahon was born in Surrey, but brought up in Old Harlow.
He has been Bishop of Brentwood since July 1980, after serving as chaplain of the University of Essex and a parish priest in Westcliff, Colchester and Stock.
Deans, priests and lay people across the diocese, will now meet to discuss his successor.
Other Catholics in Essex will also be able to share their views by writing to the Papal Nuncio to the UK, whilst Catholic churches and schools are being asked to say a special prayer to help the process.
'Good shepherd'
Bishop McMahon will also be consulted "but along with a vast number of other people".
He added: "I think as always you look for the qualities in any bishop of being a good shepherd in the manner of Jesus, our great shepherd."
He believed the successful candidate needed to know the present and future pastoral needs of the diocese, the "vision needed to meet those" and the qualities "to make that vision a reality".
Monsignor Gordon Read, chancellor of the Brentwood Diocese, said: "In recent years most appointments seem to have been from outside dioceses and that has the advantage of bringing fresh ideas with them.
"So I think that's perhaps rather more likely, but it could be a priest from within the diocese."
The Papal Nuncio to the UK is expected to send a list of names to Pope Benedict XVI later this year.