Essex County Council buys 540 London Olympics tickets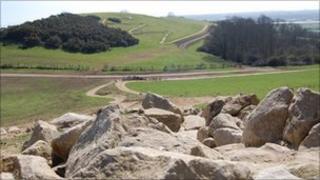 Over 500 tickets for the 2012 Olympic Games have been bought by Essex County Council at a cost of more than £23,000.
Most of them are for the mountain bike event at Hadleigh, while 30 are for the canoe slalom in Broxbourne and 10 for the opening and closing ceremonies.
The authority said most of the tickets would be allocated to young people and some used to ensure it had "appropriate representation" at key events.
It added council officials would pay full price for any tickets they used.
The cost of tickets for children will be covered by the authority.
The council bought the 540 tickets from the Department for Culture, Media and Sport.
Councillor Stephen Castle, cabinet member for the 2012 Games, explained it had yet to be decided exactly how the tickets would be used.
He said a proportion would be for young people who are in care and schools involved in Olympic-inspired education programmes.
Mr Castle hinted that some of the tickets might be sold to people close to the mountain bike course in Hadleigh.
"There are residents on the Salvation Army land that are actually going to be inside the Olympic cordon.
"So it would be crazy to have their lives disrupted for a couple of days without them having access to the tickets."
He added: "Essex is the only local authority in the country to have built and host an Olympic event, so we're unique in those terms.
"We've got visiting dignitaries from around the world coming to the mountain-biking and they would expect to meet the chairman of the county council.
"It was the government and London 2012 who were very keen that we had that sort of representation."
The mountain-biking event will take place on 11 and 12 August 2012.