BBC Your Paintings: Saffron Walden portrait goes online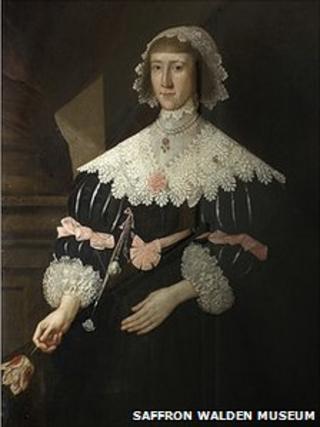 A mystery portrait at an Essex museum is one of thousands of "hidden" artworks made available to view online by the BBC's Your Paintings project.
The 380-year-old painting at Saffron Walden Museum depicting a woman holding a tulip is believed to be by the 17th century artist Gilbert Jackson.
Before the project was launched very little was known about the artwork other than the date it was painted.
For decades it was known as the "Unkown Lady by the Unknown Artist".
For the past six years the Public Catalogue Foundation (PCF) have been photographing and cataloguing 200,000 rarely seen paintings belonging to the public.
These have now been uploaded to the BBC's Your Paintings website. which was launched today.
Unknown history
For decades only the date, 1633, of the portrait of the "Unknown Lady" and how it came to be in the museum's possession was known.
It had been on display in a dark corner behind a door at the north Essex museum.
Museum curator Carolyn Wingfield explained it was only when they were contacted by the Public Catalogue Foundation (PCF) that more information came to light.
She said: "They [the PCF] were able to pass on an image to [art historian] Sir Roy Strong who attributed the painting to the style of a particular portrait painter called Gilbert Jackson.
"He was certainly working in London and around the country in the 1630s and 1640s painting portraits of various people."
"It's great that we've now begun to slot this painting into the history of painting at that period, but I don't think we are ever going to know the identity of the lady herself."
Following the unearthing of its history, the painting has been re-hung and relit in the museum's ceramic gallery.
Mrs Wingfield said: "Although we can't blast historic paintings like this with lots of light, it is a bit easier now to see and appreciate the detail."