1948 Olympic veteran uncertain over 2012 ticket offer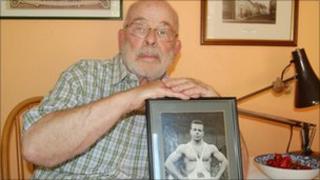 A veteran of the 1948 Olympics fears he will be unable to take up the chance of free tickets to the 2012 London games.
Ray Myland, from Leigh-on-Sea in Essex, has been offered a pair of tickets by the British Olympic Association (BOA) to mark the link between the two games.
The 83-year-old, who competed in Greco-Roman wrestling, said it would be "impossible" for him to go without additional help to get him there.
The BOA said it was "unable to help" with either transport or accommodation.
This week it announced it would allocate a pair of tickets to up to 125 surviving members of the Great Britain team who competed at the so-called 'Austerity Olympics'.
They will also have the opportunity to buy a further two tickets.
Former competitors can also be nominated to take part in the Olympic torch relay ahead of the games.
'Ruled out'
Mr Myland, who also competed in the 1952 games in Helsinki, said he would love to take up the offer, but severe arthritis made it almost impossible for him to get to London.
He said: "It's the only chance I'll have of seeing it. Wrestling is not a popular sport in this country and you'll be seeing the best.
"But I can't even get to the bus stop. I have a mobility scooter, but I don't think it will go that far [to London]."
His wife, Eileen, was thankful the BOA had chosen to acknowledge the historical the link between 1948 and 2012.
She had previously written to a national newspaper suggesting they gave tickets to 1948 veterans, while their daughter also wrote to Prime Minister David Cameron.
But she felt some of the transport used for games officials could also be used to help veterans take up their allocation.
She said: "We no longer have a car, my daughter has one but it wouldn't take his folding wheelchair.
"So it doesn't look like he's going to be there unless we get some help.
"I'm sure that's going to rule out a lot of the people."