Orsett Rio Recycling wood fire could burn for a week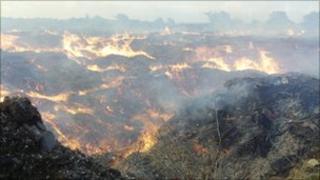 A fire involving 40,000 tonnes of recycled wood chippings in Essex is expected to burn for more than a week.
Firefighters have been at the blaze at Rio Recycling in Orsett since Tuesday morning.
The wood chips are in a quarry 80ft (24m) deep and 600ft (183m) wide and will be allowed to burn out.
Essex Fire and Rescue Service said it was "impossible" to safely extinguish the fire but there was no imminent threat to surrounding areas.
Divisional officer Ray Skinner said: "The wood itself appears to be clean and is not as yet burning pollutants into the atmosphere.
"We will keep this under constant review in conjunction with our colleagues from the Environment Agency."
He added crews would remain at the site to carry out the controlled burn and ensure it does not spread.
The fire service has also warned of the dangers of people going onto the site after children were seen walking in the woodpile.
The cause of the blaze is not yet known.