Buxey Sands cricket match played in North Sea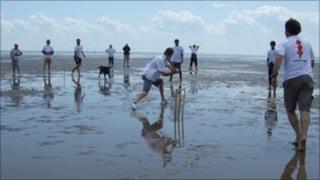 An unusual game of cricket has been held in the North Sea a few miles from the Essex coastline.
The fixture, between RNLI crews from Burnham-on-Crouch and West Mersea, happened on Buxey Sands, about seven miles (11km) south-east of Mersea Island.
About 100 spectators headed to the sandbank at low tide to watch the game, which lasted about an hour.
The 11-over-per-side match was won by the side from West Mersea.
The rules were only loosely based on those of the more conventional form of the game.
Perfect conditions needed
Jeremy Dumas, of the Mersea RNLI crew, explained each member of the team bowled one over and there was no crease or boundary ropes.
He added: "We tend to make them [the rules] up as we go along."
The event was revived in 2008, but tide and weather conditions meant it was postponed over the past two years.
Mr Dumas said they hoped it could become an annual event, but explained both tidal and weather conditions had to be perfect for them to be able to play.
He said this meant there had only been two possible dates this year when the game could have taken place.
The Mersea team, who batted first, won with a score of 35 runs, with the Burnham crew only able to manage 22 runs.