Alcohol and vehicles seized in Essex police operation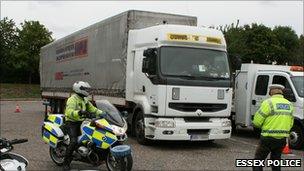 Two people were arrested, 11 vehicles seized and 23 tons of smuggled alcohol confiscated by police in Essex.
The arrests and seizures, which took place in the Chelmsford area on Thursday, were aimed at travelling criminals and increasing road safety.
One man was arrested on a warrant for failing to appear in court, and the other on suspicion of criminal damage.
The lorry carrying 23 tons of beer and wine was seized after customs officers found it had been smuggled into the UK.
The alcohol was discovered when officers from the Essex Police commercial vehicle unit stopped and checked a lorry at Boreham services.
Vehicles were escorted to check points at Galleywood, Boreham and in central Chelmsford.
The 11 vehicles were seized after it was found the drivers were not insured.
A total of 52 drivers were stopped for driving while using mobile phones and 108 drivers were not wearing seatbelts.
For a one-day trial period, anyone given a £60 fixed penalty notice for not wearing a seatbelt was given the chance to have the fine waved by completing a safety training on the day.
Fifty-one drivers attended the training session.
Seventy-six fixed penalty notices were issued for other traffic offences.
A total of 150 driver hours offences were detected by officers from the commercial vehicle unit.
Sgt Danny Parsons, who led the operation, said: "It has been a success but it still shows that we must continue to be robust in enforcement and education around those drivers who ignore the law on mobile phone use and wearing seatbelts."
Related Internet Links
The BBC is not responsible for the content of external sites.