2012 Olympic torch roadshow visits Chelmsford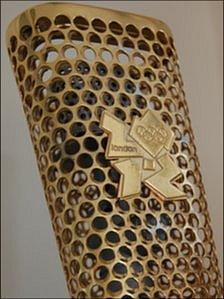 A prototype version of the 2012 Olympic torch has been in Essex as part of a nationwide tour.
The roadshow in Chelmsford was designed to encourage nominations to be one of the 8,000 torch bearers in next year's 70-day torch relay ahead of the games.
As well as the 2012 torch there was also an exhibition focusing on past torch relays and torch designs.
Hylands Park in Chelmsford will host one of the overnight stops for the torch relay on 7 July 2012.
Jayne Rowley-Evans from roadshow organisers Lloyds TSB explained the event was about getting people to think about those in their community who were worthy of carrying the Olympic flame.
She said: "We're looking for those ordinary people who do extraordinary things that we never ever hear about."
The three-sided torch, which has 8,000 holes representing each one of the torch bearers was designed by Edward Barber and Jay Osgerb.
It is currently being tested and developed by Basildon company TECOSIM Technical Simulation
Each torch bearer will carry the torch for 300 metres and will keep the torch they carry.
The torch relay will begin in Lands End, Cornwall on 18 May 2012 and culminate with the lighting of the Olympic flame in July.
Related Internet Links
The BBC is not responsible for the content of external sites.