Homes set for St John's Hospital site in Chelmsford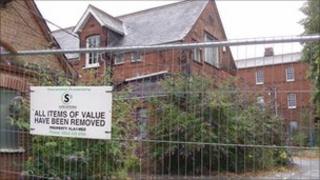 Up to to 300 homes could be built on a former hospital site in Essex.
Property developer, Inland PLC, has bought half of the 13-acre (2.6 hectares) site once occupied by St John's Hospital in Chelmsford.
It plans to build a number of houses and apartments, refurbish some of the 19th Century hospital buildings and create some commercial spaces.
The hospital closed its doors last November after the last of its services transferred to Broomfield Hospital.
Inland PLC also intends to purchase the other half of the brownfield site, which has recently gone up for sale.
Its land director, Paul Brett, said they would be consulting with local residents about what they would like from the development.
'Very poor state'
Liberal Democrat ward councillor Freda Mountain said she would like to see a mix of affordable and higher end housing and a community hall.
The former workhouse in Wood Street became a hospital in the 1920s. An estimated 100,000 babies were born there between then and its closure.
Mr Brett said a lot of work would be needed on the hospital buildings.
"The main building, which is the most attractive on the site, has unfortunately fallen into a very significant state of disrepair.
"The ceilings have fallen in, a lot of the roof is missing and so it is in a very poor state.
"So there will be significant costs required to take it back to habitable accommodation."
Work is not expected to begin for at least 18 months.