Assurance given over Christian Gypsy festival in Essex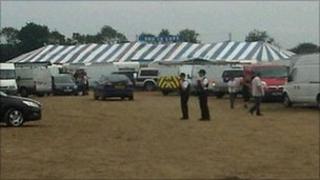 The organisers of a Christian Gypsy festival in Essex have said all those attending the event will have moved off the site by the weekend.
An estimated 600 caravans are at Birkett Hall, Woodham Ferrers, near Chelmsford, for the national convention of the Light and Life Church.
Organisers admitted the event, which has attracted up to 2,500 people to its services, was bigger than expected.
Essex Police said they were ensuring disruption was kept to a minimum.
The event, being held with the landowner's permission, began on Monday and is due to close on Thursday.
It follows a smaller regional convention held on the 20-acre site last year.
Events are being held in a large circus tent on the site.
'Good problem'
Pastor Jackie Boyd is one of the organisers of the event for the travellers' church group.
He said: "This has been big. There are people here from Belfast, from Aberdeen and as far south as Southampton, so every part of Great Britain.
"It's only four days so we try and get in as much gospel preaching, Bible study, explanation and prayer as we can.
"We didn't expect it to be this big. It's a good problem to have.
"The logistics are hard to work out but this is what we're all about; reaching as many people as we can."
He said he would invite any local people with concerns over the event to come on site and visit.
"We have a service every night at seven o'clock and all our services are open to everyone," he said.
"This is an event we have every year. Everybody will be gone (from) here on Friday. The only people that will be on here after that are the people that are going to clean the site."
Essex Police said in a statement that they were aware of the festival.
"It's a planned event but as with all such gatherings there may be incidents which cause disquiet among local residents and where the irresponsible actions of a minority mar the enjoyment of the event by the majority," it said.
"Police officers will pay attention to the gathering and will deal with any matters that fall within their remit and will be liaising with other partner agencies to ensure that the event takes place with minimum disruptions."