Alan Titchmarsh opens Writtle College building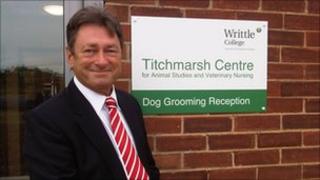 Broadcaster Alan Titchmarsh has opened a £1m building at an Essex college that has been named in his honour.
The Titchmarsh Centre for Animal Care was officially opened by the television gardener and chat show host at Writtle College, of which he is a patron.
The building will be home to a variety of animals and used to train animal care students at the college.
Mr Titchmarsh said it was "astonishingly flattering" to have a building named after him.
He said: "I'm hugely thrilled, partly because it's got my name on the outside, I don't think there is any other building in Britain that has that. I'm really honoured by that.
"But also for the importance of passing on husbandry skills of animals and plants and the fact that this centre will also do that and ensure those skills are passed from generation to generation."
The new centre is expected to allow the college to triple the number of students it could educate.
Courses will range from introduction to animal studies, dog grooming and veterinary nursing.
The animals being homed at the centre are mainly so-called "companion animals" such as rabbits, guinea pigs, aviary birds, reptiles and chickens.
After the official opening, in which garden sheers replaced traditional scissors, Mr Titchmarsh presented 240 graduates with their degrees at Chelmsford Cathedral.