Southend Reece Lamude death probe police release CCTV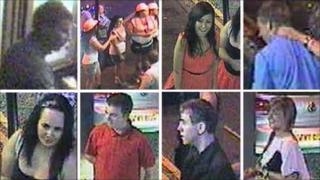 Police hope to trace 10 people who were on a night out in an Essex town when a 37-year-old man was fatally injured in a fight.
Reece Lamude was hurt outside Churchill's Bar in Tylers Avenue, Southend, on 19 June. He later died in hospital.
Police said the people were nearby between 02:15 and 03:00 BST and may have witnessed any incident.
Four men are on police bail pending further inquiries.
Det Insp Marina Ericson of the Kent and Essex Serious Crime Directorate said: "We know from CCTV footage that the 10 people in the pictures were close by or may have been watching while a disturbance was going on near the club doorway.
"These people were not, in any way, involved but they might hold vital information about events that led to Mr Lamude's death.
"For the sake of his family we need to talk to these people and establish exactly what happened."
Det Insp Ericson said four young women in one of the images appeared to be part of a group all wearing pink workman-style hard hats and pink vests.
The images to the top left and the top right are of the same man, pictured from the side and from behind.
Anyone with information is asked to contact police.