Uttlesford grants freedom of district to 101 Engineer Regiment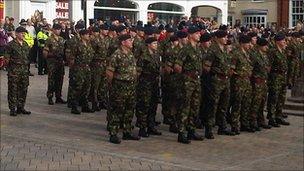 About 250 soldiers have marched through an Essex town to mark their return from a six-month tour of Afghanistan.
Troops from Wimbish-based 101 Engineer Regiment (EOD) paraded through Saffron Walden having been granted the Freedom of Uttlesford district.
The bomb disposal unit formed part of Operation Herrick's Counter-Improvised Explosive Device (C-IED) Task Force.
Following the parade a medal ceremony and memorial service were held at the regiment's Carver Barracks.
Soldiers from the regiment's 17 Field Squadron were deployed alongside troops from the Royal Engineers and Royal Logistics Corps who made up the C-IED Task Force.
Commanding officer, Lt Col Mark Budden, said the parade was a fitting finale to what had been an "incredibly difficult" tour.
He said: "It's not only to make the soldiers feel proud of their achievements in Afghanistan, but also to thank families and the local community for their support whilst we've been deployed."
"It's incredibly demanding work we do and knowing your family and friends are not just safe back home, but also supported by the community I think is absolutely vital to the mental wellbeing of the soldier once he's deployed."
The march began at the Uttlesford District Council's offices and ended in Market Square.
Cllr Derek Jones, chairman of the council, said it was a "privilege" to grant the honour to the soldiers.
He said: "We are very proud of our regiment and the wonderful job they are all doing under extremely difficult and dangerous conditions."
101 Engineer Regiment (EOD) has been based in north Essex since April 2010.
In 2009, 33 Engineer Regiment, which is also based at Carver Barracks, was given the honorary freedom of Uttlesford.
Related Internet Links
The BBC is not responsible for the content of external sites.