Burnham-on-Crouch lifeboat to be officially named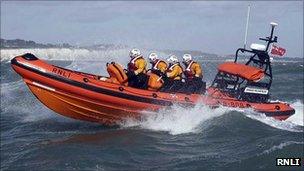 A new £170,000 lifeboat will be officially handed over to an Essex RNLI station at the weekend.
The Atlantic 85 boat donated to the Burnham-on-Crouch station will be named Tony & Robert Britt, after the sons of its benefactor.
The four-man boat has been used by the crew since August, when it replaced their existing Atlantic 75 boat.
The charity had to raise about £150,000 to build a new floating boat house to accommodate the 8.3m (27 ft) vessel.
The boat has been donated to the RNLI by long time supporter Patricia Britt, from Beckenham in Kent.
Following the death of her husband in 2000, she decided to donate the funds to buy a new lifeboat, which has been allocated to the Essex branch.
She will officially name the boat, with her surviving son Robert, at a ceremony on Saturday.
She said: "I know that my husband Geoffrey and [late] son Tony would have loved to attend.
"I am so glad to have been able to name this lifeboat to ensure that both my sons' names live on."
Burnham operations manager Sir Dick Ryecroft said: "We are extremely grateful to Mrs Britt for her generous donation.
"Thanks to her we are now better equipped than ever to go to the aid of people in trouble at sea."
The Atlantic 85 is one of two boats used by the Burnham station, alongside its smaller IB1 dingy.
Related Internet Links
The BBC is not responsible for the content of external sites.