Finds by Essex metal detectorists declared as treasure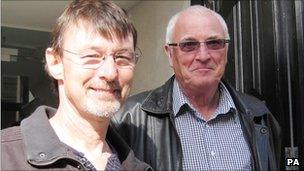 A selection of artefacts and coins discovered by metal detectorists in Essex have been declared as treasure trove.
At an inquest held in Chelmsford, 13 separate finds were all declared treasure trove by coroner Caroline Beasley-Murray.
Among the finds from Roman, Viking and Iron ages are coins, axe heads, sword fragments, jewellery and fittings.
The items will now go before a finds committee to be formally valued.
Among the finds were more than 500 medieval gold and silver coins found on land near Corringham in August 2009.
They were found by amateur detectorists Brian Smyth and Nick Roundtree.
Mr Smyth said the coins could be worth between £20,000 and £30,000.
He said: "We dug up the soil and there was all these gold and silver coins. At the time it didn't sink in what we had found.
"It's probably my best find, you're not too likely to find too many like this.
"When you find something like it you think the last person to have held it was a thousand years ago, which is very nice."
Once the coins have been valued, they will either be bought by a museum or put up for auction.
The money fetched will be split between the pair who found it and the farmer whose land it was under.
Of the 13 different finds at the inquest, six were found on land in the Uttlesford District, two in the Ongar area and two in Epping.
Related Internet Links
The BBC is not responsible for the content of external sites.