Chelmsford Shire Hall's future reviewed by Essex County Council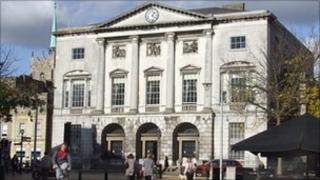 The long-term future of a 220-year-old civic building in Essex is under review by the county council.
Shire Hall, in Chelmsford, which opened in 1791, has been the venue for trials, inquests, conferences and balls.
The magistrates courts are set to leave the grade II-listed building's ground floor in April 2012 and its future role is currently uncertain.
Essex County Council said it would keep ownership of the building but would not decide on its use until the new year.
As well as the magistrates courts, the building is used for functions and fairs throughout the week and at weekends.
Conservative councillor Derrick Louis, cabinet member for procurement, property and major projects, said the Georgian building overlooking the High Street would continue to be used as a public facility.
He said the council was discussing its options with Chelmsford Borough Council and local interest groups, such as Changing Chelmsford.
'Fabulous opportunities'
He would not be drawn on what those options could be.
Mr Louis said: "We think there are fabulous opportunities for Shire Hall.
"That part of Chelmsford is being looked at in terms of regeneration and redeveloping Tindall Square and Shire Hall is going to play a big part of that."
Dennis Hance, from the Chelmsford Civic Society, said the building should be protected, but added possible uses for Shire Hall were not obvious.
He said: "There aren't that number of organisations in Chelmsford that have got that number of people who would want that big room, that's the basic problem.
"You couldn't possibly divide it into two, it would spoil all of its proportions and make it pretty horrible."