'Distressed' woman sparks search on A414 in Danbury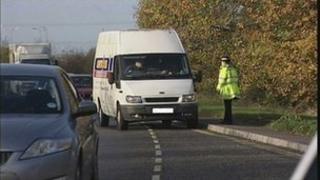 Police officers and a helicopter are searching for a woman seen walking in a distressed state on an Essex road.
The alarm was raised at 08:00 GMT by several motorists who had spotted the woman on the A414 in Danbury.
A search is under way around the Riffhams Lane interchange, police said.
Police are concerned for the woman's welfare. They said she had been described as blonde, aged in her 20s, slim and wearing a light blue jacket and jeans.
Vehicles on the A414 and dog walkers in the area have been stopped by officers in attempt to get more information.
A police spokesman said: "We would urge this woman to contact us if only to allay our fears for her safety.
"She is causing us concern given the distressed state she was seen in by many motorists, combined with the cold temperatures."
"As yet, we don't know who this woman is and nobody has reported a woman missing matching her description."