London 2012: Essex students land Olympics swimming role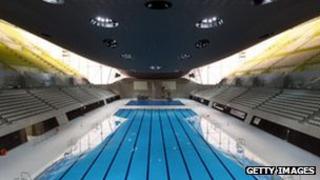 Ten pupils from an Essex school are to act as kit carriers for swimmers at this year's Olympic Games.
The teenagers, who attend Brentwood County High School, have been selected to be Young Games Makers at the Aquatics Centre in Stratford.
They are among 2,000 young people who will volunteer at Olympic events.
David Franklin, 16, said: "It's an amazing privilege to be involved in the Olympic Games, especially as it's almost on my doorstop."
The Brentwood Swimming Club member explained the role would involve carrying the baskets the swimmers put their dry kit into during the races.
He said: "I'm thankful to everyone who has given me this opportunity.
"I used to specialise as a butterfly swimmer, so obviously I've got a lot of interest in seeing Michael Phelps compete.
"I think it would be amazing to meet him and possibly carry his kit behind him."
'Perfectly in line'
The Essex students won the opportunity to volunteer at the games following a selection process.
This saw them having to design a sculpture for the Olympics and an advert to sell tickets for a particular sport.
Teacher Hayley Hawes said they had been able to choose which sport they were interested in volunteering for.
She said: "I didn't think in a million years we'd get selected. I thought it was more likely to be for a swimming club to get it."
The next step for the team will be training, which begins in February.
Miss Hawes said while they were not aware of the exact details of what days they would be required during the games, it was clear high standards would be expected.
She said: "As part of the interview process they were shown a video of the same role at the Beijing Games.
"Some were standing, some were kneeling and they said 'does this look a good picture to you?'
"They said in 2012, the games makers will be perfectly in line."