Neighbours found dead in Essex could have been 'in dispute'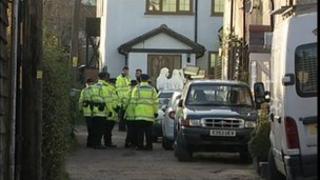 Two neighbours found dead in their homes in Essex could have been involved in a dispute, residents have said.
Detectives are investigating events that led to the deaths of Alan Taylor, 59, and Richard Wight, 55, whose bodies were found in adjoining properties in Eagle Lane, Braintree, on Sunday.
Police are treating the deaths as suspicious and are awaiting the results of post-mortem tests.
Residents have suggested the dispute might have related to parking issues.
Den Lennie, whose house backs on to Eagle Lane, said: "It seems there may have been two gentleman involved in a dispute and it's come to a pretty nasty end."
Another resident, who did not want to be named, said Mr Taylor and Mr Wight were known to "not get on".
"People are saying that it got worse over Christmas," the resident said.
Car seized
"I try to keep my nose out of other people's business so it's difficult to say what it's about but parking is a problem around here."
Paramedics were called on Sunday to a report of a man, believed to be Mr Taylor, having suffered a cardiac arrest. When they arrived he was already dead.
Police said Mr Taylor was found by a family member.
Mr Wight's body was then discovered by a police officer.
A Ford Fiesta van was taken away from the cul-de-sac by police on Monday as part of the investigation.
An Essex Police spokesman said: "Inquiries are continuing to establish the sequence of events leading to the deaths.
"The deaths are being treated as suspicious and both scenes are being forensically examined."