'Breathing space' at Coryton oil refinery after cargo delivery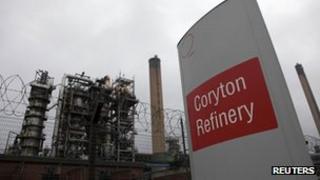 Work will continue at a major refinery in Essex after a cargo of oil was delivered, administrators have said.
PwC said the move allowed "breathing space" as efforts are made to secure the future of the Coryton site.
But administrators warned the new purchase would only extend operations by "a number of days".
Swiss owner Petroplus placed the refinery in administration, prompting fears of hundreds of job losses.
Around 500 people are employed at the site, which supplies 20% of fuel in London and the South East.
'Significant' operating costs
Administrators said attempts were being made to find a "more stable solution".
Steven Pearson, from the administrators, said: "It has required extensive discussions and intense negotiations to acquire this cargo of oil. It provides vital breathing space.
"Discussions have been ongoing with a number of parties who have expressed an interest in sustaining refining at the site and this purchase provides more time to allow those discussions to be assessed by all parties.
"We continue to work through the day and night to find a solution which buys more time and which ultimately could result in a sale."
As well as refining oil for use as fuel, the Coryton site - one of eight refineries in the UK - also imports fuel from other countries that has already been refined.
Mr Pearson said: "The costs of operating the site are very significant and this means we are living from hand to mouth.
"We cannot guarantee anything at this stage, but at least we have extended the period which the site can operate for by a number of days. This extra time is critical in maximising our options."