Tiptree jam firm takes over former Tymperleys clock museum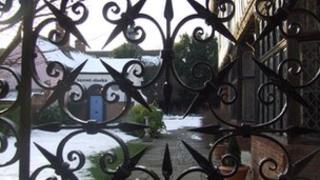 An Essex jam-making company is to reopen a Grade II-listed former clock museum in Colchester as tea rooms.
Wilkin and Sons has been chosen to take on a 20-year lease on the 15th Century Tymperleys building, in Trinity Street, from Colchester Borough Council.
Until recently it was home to a museum of about 40 clocks which were donated to the town, along with the house, by a local businessman in the 1980s.
The local authority offered the lease to bidders as part of budget savings.
The managing director of the Tiptree-based company, Ian Thurgood, said he hoped to have the tea rooms open by the summer.
He said: "There's a way to go yet. There's the lease to be agreed and signed and then we need to talk about how to fit the tea rooms into the building.
Gardens restored
"I don't think anyone can claim ownership of a building as old and historically important as Tymperleys.
"We're just going to be the custodians and it's our role to look after it for the next 20 years."
The company said it also intended to restore the gardens and open more of the building for public access.
Tymperleys was once home to William Gilberd, a scientist and physician to Elizabeth I.
It was restored in the 1950s by businessman Bernard Mason, who left both the building and his clock collection to the council in the 1980s.
The clocks are now housed at the town's Hollytrees Museum.
Proposals to use the building as a guest house and museum were also submitted to the council.
Council leader Anne Turrell said: "We've managed to save the taxpayers' money from its maintenance, yet keep a big heritage building open to the public.
"We wanted it opened for as many days as possible and they offered the building to be open for seven days a week."
However, some people who run nearby tea rooms and cafes said they feared the decision could have a negative impact on their businesses.
Lee Parkes, owner of the Tea Rose Cafe, said: "I'm not too pleased really, as in the last month I've seen a couple [of cafes] shut and other people I know who are on the verge of closing.
"If you open one up, then another shuts."