Occupy Southend protesters set up camp on new site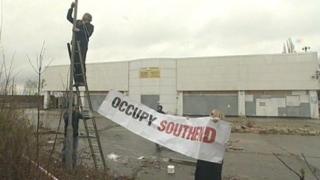 A group of protesters who set up camp in an Essex churchyard have moved to a new site elsewhere in the town.
Occupy Southend demonstrators pitched about eight tents on the forecourt of a former car showroom in Priory Crescent on Sunday.
The group previously spent 10 days in the grounds of St Mary's Church in Prittlewell before moving on last week.
It is part of a global movement to raise awareness of concerns about capitalism and unfairness in society.
The group left the churchyard last Tuesday, following a threat of legal action from the Diocese of Chelmsford.
'Discussion forum'
Occupy Southend member Mark Sharp said they were keen to "put that behind us" and continue to "highlight the injustices of the economic system".
Mr Sharp said: "We were getting a bit annoyed with the distraction of being on the church site.
"We wanted to be talking about the things we were set up to talk about.
"We're here as a discussion forum for the people of Southend to see if we can come up with some of the solutions."
He added the group intended to remain on the former Toomey site for as long as possible.
The site has stood empty for about three-and-a-half years after the Toomey Motor Group moved to a new location.
It is believed to still be owned by the company.
The new camp is close to the former "Camp Bling" site set-up to oppose the widening of the Priory Crescent road.
The three-year encampment, which ended in 2009, was created on a former Saxon burial ground.
Some members of that protest are also part of the Occupy Southend group.